Star Trek: Deep Space Nine – Crossroads of Time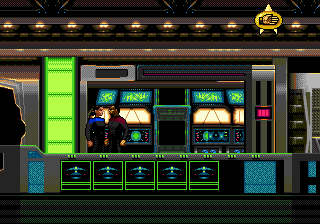 Star Trek: Deep Space Nine – Crossroads of Time
Date added: 2014-09-30
Tags:None
Rated the best by our players
5 out of 5 based on 440 ratings.
Game Information:
Star Trek: Deep Space Nine – Crossroads of Time is an action-adventure video game for the Sega Genesis/Megadrive game console, later ported to Super Nintendo. In the game, the player controls a member of the Deep Space Nine's crew, mostly captain Benjamin Sisko, also doctor Julian Bashir, major Kira Nerys and Odo. Most of the game's levels are cinematic platformers, one is a horizontal-scrolling shooter. Platformer levels are of two types: 'adventure' levels and 'action' levels. In 'adventure' levels, the player character moves around the Deep Space Nine, talking with NPCs and ultimately reaching a certain point in the plot. In 'action' levels, the player wanders the level in the cinematic platformer style, climbing ledges, fighting enemies with a phaser, finding and using items, with an ultimate goal to fulfill a certain mission, sometimes within a given time limit. A password is given after completing each one or two subsequent levels. If the player gets his/her character killed, the game can be resumed from the point the last password was given at. The number of retries is unlimited, however, the player can be pushed quite a distance behind. The game has a distinctive Star Trek flavor in that to complete most levels, the player needs to first thoroughly investigate the level map and learn to use various equipment found throughout it. Only after that the walkthrough becomes more or less straightforward and the player can start training to meet the level goals within the given time limit and not get the protagonist killed in the process. Due to that and to moderate to moderately high difficulty, few levels are completable on the first try. Each one can take as many as a few dozen attempts before a decent walkthrough plan is prepared and executed with enough mastery.
More games you may like...