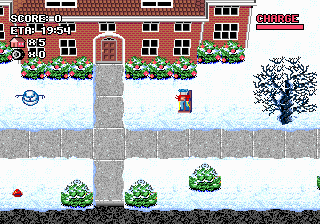 Home Alone
Date added: 2014-09-30
Tags:None
Rated the best by our players
5 out of 5 based on 1426 ratings.
Game Information:
Home Alone refers to a number of video games created for the Super Nintendo Entertainment System, Sega Master System, Sega Genesis, Sega Game Gear, Amiga, personal computer, Nintendo Entertainment System and the Game Boy. They are all based on the movie of the same name. There are multiple versions of the game and each features a different style of gameplay, but all share the same plot and roughly the same objective: Kevin McCallister is left home alone when his family goes on vacation. He must prevent Harry and Marv, the "Wet Bandits", from burglarizing his home, using various household objects as traps and/or weapons. Each version of the game is an example of the trap-em-up genre, which also includes games like Heiankyo Alien, Space Panic, and Lode Runner.
More games you may like...