Joshua & the Battle of Jericho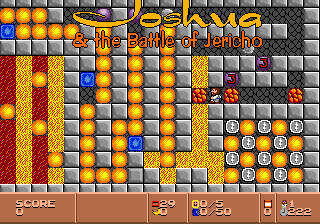 Joshua & the Battle of Jericho
Date added: 2014-09-30
Tags:None
Rated the best by our players
5 out of 5 based on 272 ratings.
Game Information:
Joshua & the Battle of Jericho is a Christian video game developed and published by Wisdom Tree. The game is themed on the Battle of Jericho described in the Book of Joshua, in which the Israelites topple the defensive wall of the city of Jericho by encircling it and blowing their trumpets. In the game, Joshua is the player character. In 1992, Wisdom Tree published the game in the United States for the Nintendo Entertainment System, and later ported it to Game Boy, MS-DOS and Sega Genesis. Wisdom Tree published the MS-DOS and Genesis versions in 1994.
More games you may like...