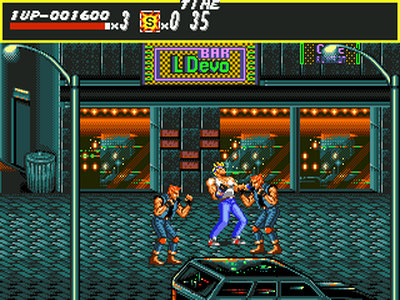 Streets of Rage
Date added: 2014-09-30
Tags:None
Rated the best by our players
5 out of 5 based on 46570 ratings.
Game Information:
Streets of Rage (ベア・ナックル 怒りの鉄拳 Bea Nakkuru: Ikari no Tekken?, "Bare Knuckle: Furious Iron Fist") is a side-scrolling beat 'em up released by Sega in 1991 for the Sega Genesis. It is the first installment of the Bare Knuckle/Streets of Rage series which was followed by Streets of Rage 2 and Streets of Rage 3. The game was also converted over to Sega's Game Gear, Sega CD and Master System. In 2007, the game was released for the Wii's Virtual Console in North America and Europe, and in 2009 it was released for the iOS via the App Store. The game was again made available as part of Sonic's Ultimate Genesis Collection in 2009 on both the PlayStation 3 and Xbox 360 consoles.
More games you may like...