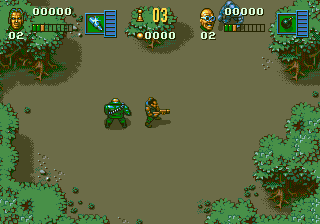 The Chaos Engine
Date added: 2014-09-30
Tags:None
Rated the best by our players
5 out of 5 based on 386 ratings.
Game Information:
The Chaos Engine is a top-down run and gun video game developed by The Bitmap Brothers and published by Renegade Software in 1993. The game is set in a steampunk Victorian age in which one or two players must battle the hostile creations of the titular Chaos Engine across four landscapes and ultimately defeat the Chaos Engine and its deranged inventor. It was first released for the Commodore Amiga, with a version available for AGA Amigas, and later ported to MS-DOS, the Super Nintendo Entertainment System, Atari ST, Amiga CD32, RISC OS and Sega Mega Drive platforms. In the SNES and Sega versions, the character The Preacher had his clerical collar removed and was renamed The Scientist. The U.S. versions of these two ports were retitled Soldiers of Fortune. A sequel to the game, The Chaos Engine 2, was released in 1996.
More games you may like...