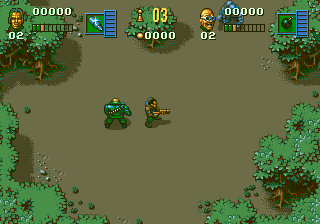 The Chaos Engine 2
Date added: 2014-09-30
Tags:None
Rated the best by our players
5 out of 5 based on 244 ratings.
Game Information:
The Chaos Engine 2 is a video game by The Bitmap Brothers and the sequel to The Chaos Engine (known as Soldiers of Fortune in North America). It was released for the Commodore Amiga in 1996, though was also once set for release for the Sega Mega Drive before this version was cancelled. The Chaos Engine 2 is a top-down action game like its predecessor, but is this time always a split-screen two-player game (with the computer taking on the role as player 2 if needsbe). An prototype of the Mega Drive version of The Chaos Engine 2 was leaked onto the internet, showing an early build with no computer players, vertical split-screen (as opposed to the Amiga, which splits play horizontally) and only one level. It is unknown why this version of the game was cancelled, though had it been released, it would have arrived on the console quite late in its lifespan.
More games you may like...