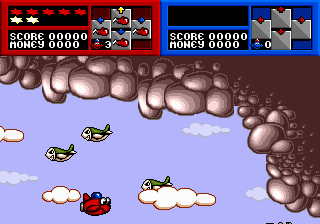 The Gadget Twins
Date added: 2014-09-30
Tags:None
Rated the best by our players
5 out of 5 based on 172 ratings.
Game Information:
The Gadget Twins is a 1992 side-scrolling beat-'em-up developed by Imagitec Design Inc. and published by GameTek for the Sega Mega Drive. A green airplane named Thump steals the Magic Gem from the royal palace of Gadget Land. When the King finds out, he sends Bop and Bump, red and blue planes (respectively), to retrieve it. The game can be played either by one player (Bop) or by two players (1P Bop, 2P Bump). The goal is to get through each stage by destroying enemies with small spring-loaded fists attached to the top, bottom, left, and right of your plane. A attacks and B changes the direction of the attack (you can only attack in one direction at a time, and the direction is independent of what way you are facing). The D-pad moves around the screen, which will always scroll, so be quick! Each enemy drops a gold coin you must collect for currency. If you see an entry portal to a shop, hit C to go in. Here, you can buy weapons. Use Left/Right to select an item, Up/Down to select "Buy" or "Exit," and B to buy/exit. If you choose to buy, use the D-pad to select which side you want the weapon on (you only have a limited number of sides to choose from) and B to confirm the buy or C to cancel.
More games you may like...