Justice League Task Force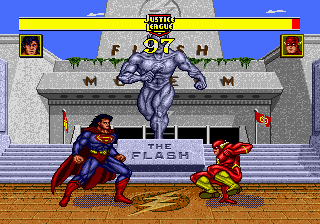 Justice League Task Force
Date added: 2014-09-30
Tags:None
Rated the best by our players
5 out of 5 based on 3502 ratings.
Game Information:
Justice League Task Force (ジャスティス・リーグ?) is a SNES and Sega MegaDrive/Genesis tournament fighting game developed by Sunsoft and published by Acclaim in 1995. The SNES version was co-developed by Blizzard Entertainment and the Mega Drive version by Condor, Inc. (later known as Blizzard North). It involves characters from DC Comics' Justice League. For this game, the characters include Superman, Batman, Wonder Woman, Green Arrow, The Flash, and Aquaman. The game style is the versus fighting game genre, akin to the Street Fighter and Mortal Kombat series.
More games you may like...