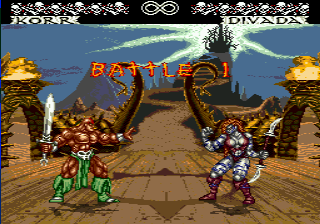 Weaponlord
Date added: 2014-09-30
Tags:None
Rated the best by our players
5 out of 5 based on 1142 ratings.
Game Information:
Weaponlord is a fighting game developed by Visual Concepts and published by Namco for the Super Nintendo and Sega Genesis/Mega Drive in October 1995. As in other fighting games, Weaponlord has players select a character and defeat a series of opponents. The game is a weapons-based fighter, with various gory moves and a deep counterattack system. Project leads James Goddard and Dave Winstead aimed to design a title for enthusiasts of the fighting game genre. Unlike many other fighting games of the time, WeaponLord was designed specifically for home consoles and was one of the first fighting games optimized for online play. It has also been cited as the basis for Namco's Soul Edge/Calibur series.[1]
More games you may like...