Disney Collection - Castle of Illusion and Quackshot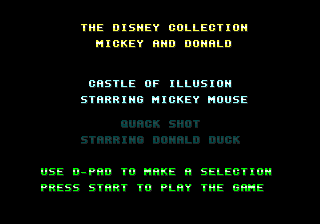 Disney Collection - Castle of Illusion and Quackshot
Date added: 2014-09-30
Tags:None
Rated the best by our players
5 out of 5 based on 1335 ratings.
Game Information:
QuackShot: Starring Donald Duck, known in Japan as I Love Donald Duck: Guruzia Ou no Hihou (Japanese: アイラブドナルドダック グルジア王の秘宝 Hepburn: Ai Rabu Donarudo Dakku Gurujia Ō no Hihō?), is a 1991 platforming video game developed by Disney Interactive Studios and published by Sega for the Sega Genesis. The game was released in Europe in 1991, in North America on December 19, 1991 and in Japan on December 20, 1991. QuackShot stars Donald Duck and his three nephews, Huey, Dewey, and Louie, as treasure-hunters, and is part of a series of games published by Sega that were based on Walt Disney cartoon characters. QuackShot was released to mostly positive reviews from video game journalists. The game was universally lauded for its graphics, with magazines like Sega Pro describing them as "some of the best graphics around." The game was also praised for its music and puzzles, as well as their clever use in the game. However, QuackShot was criticized for its controls, being described by IGN as "float-y" and making certain segments of the game unnecessarily difficult. The game was also criticized for its lack of difficulty overall as well as its lack of speech samples, which several other Genesis games of the time had. Castle of Illusion Starring Mickey Mouse, known in Japan as I Love Mickey Mouse: Great Mysterious Castle Adventure (アイラブミッキーマウス ふしぎのお城大冒険 Ai Rabu Mikkī Mausu: Fushigi no Shiro Daibōken?), is a platform game developed by Sega and released for the Sega Mega Drive (Genesis) in November 1990. The game also was on a cartridge entitled "Disney Collection" bundled with QuackShot in 1996.[1] An 8-bit version of the game, known as I Love Mickey Mouse's Castle Illusion (アイラブミッキーマウスのキャッスル・イリユージヨン Ai Rabu Mikkī Mausu no Kyassuru Irūjon?) in Japan, was later released for the Master System and Game Gear. The game follows Mickey Mouse on a quest to save Minnie Mouse from the evil witch Mizrabel. It was the first game in Sega's long-running Illusion series of video games starring Mickey and was also a part of the second wave of games initially released for the Sega Mega Drive/Genesis which helped seal the console's reputation within the period until the release of Sonic the Hedgehog. Castle of Illusion was very well received by critics, especially the original 16-bit version. It was re-released in 1998 in Japan as part of the Sega Ages: Mickey Mouse & Donald Duck for the Sega Saturn, which features both Castle of Illusion and QuackShot. A remake of the game by Sega Studios Australia was released for PlayStation Network, Xbox Live Arcade and PC in September 2013.
More games you may like...