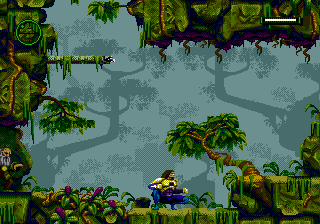 Generations Lost
Date added: 2014-09-30
Tags:None
Rated the best by our players
5 out of 5 based on 378 ratings.
Game Information:
Generations Lost is a cinematic platform action game similar to Flashback. It was created for the Sega Genesis/Mega Drive and was released to little or no acclaim. The player takes on the role of a young adventurous man named Monobe who is searching for the past of his people. He is only equipped with an arm-mounted device called an "e-rad" and what is believed to be magic armor. These devices allow Monobe to project energy bolts and create energy ropes to swing on in addition to his basic fighting skills delivering strikes with hands and feet and running jumping and rolling. The player will have to use his skills and his devices to traverse the many strange lands of the game in order to solve the mystery of his people.
More games you may like...