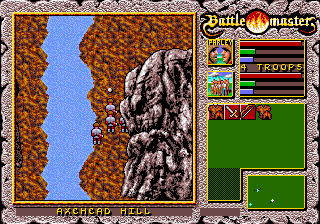 Battle Master
Date added: 2014-09-30
Tags:None
Rated the best by our players
5 out of 5 based on 215 ratings.
Game Information:
"Battle Master is a fun realtime battle experience with a few quirks. Dragon streaks for all!" BATTLE MASTER for Sega Genesis Premise The kingdom has been split into four pieces. Men, Elves, Dwarves, and Orcs all war for complete control. The prophecy said a hero would rise to conquer the land and unite the four warring kingdoms. Well, whaddya know! You're just in time. Select one of the four aforementioned races, pick a class (thief, warrior, wizard, merchant), and set out to slay pretty much everybody. The game begins in a slightly different location depending on which race you've chosen, but after this initial scenario is completed, you'll be taken to the big map. The game plays out as you select pre-determined locations from the map and are taken down to resolve the battle on the scenario map. You can choose to slaughter the army inhabiting the area, or to pay them off and slink past if you don't think you've got what it takes to get the job done. Consider buying extra troops early on if that's the case - you'll need every one you can get (up to 15). You will also collect weapons, armor, magic wands, food, and other assorted items as you pillage. Hack and slash your way through all four nations, and you've got yourself a kingdom. Read on, hero.
More games you may like...