Dungeons & Dragons: Warriors of the Eternal Sun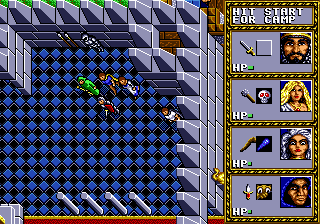 Dungeons & Dragons: Warriors of the Eternal Sun
Date added: 2014-09-30
Tags:None
Rated the best by our players
5 out of 5 based on 951 ratings.
Game Information:
Dungeons & Dragons: Warriors of the Eternal Sun is a role-playing video game developed for the Sega Mega Drive in 1992 by Westwood Associates. The game chronicles the story of a party of adventurers who have been transported to an unknown world and must survive against its hostile inhabitants while learning about their new home. It is based on the Dungeons & Dragons (D&D) game rules, and uses creatures, enemies and themes from the D&D Hollow World campaign setting, such as Blacklore elves, the war-mongering Azcans, beastmen, lizardmen, and dinosaurs.
More games you may like...