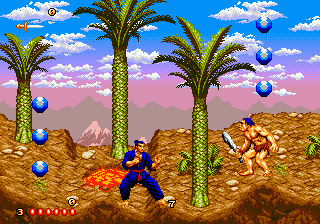 The Second Samurai
Date added: 2014-09-30
Tags:None
Rated the best by our players
5 out of 5 based on 455 ratings.
Game Information:
The Second Samurai is the sequel to the 1991 game First Samurai, released for the Sega Mega Drive/Genesis and Amiga in 1994. The game now has a 2-player mode. Notable features also include prehistoric and futuristic levels as well as feudal Japan like the 1991 prequel. Also, like the previous game, contact with enemies or falling off the screen (unlike other games, you will not lose a life automatically) will take one point off of your life bar. In the Mega Drive/Genesis version of the game, however, the Demon King from the first game will taunt you on a black screen when you lose a life with funny sayings such as "Give up mortal!" until you lose your last life, where his last saying is "Game Over!".
More games you may like...