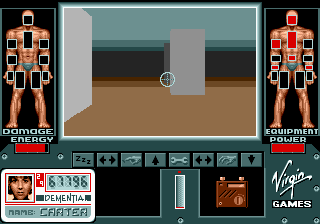 Corporation
Date added: 2014-09-30
Tags:None
Rated the best by our players
5 out of 5 based on 272 ratings.
Game Information:
Corporation (released as Cyber-Cop in North America) is a video game for Amiga, Atari ST and DOS, later ported to the Mega Drive/Genesis. It was developed for Core Design by Dimension Creative Designs by Bill Allen with graphics and design by Kevin Bulmer. The PC and Sega versions were published by Virgin Games. Originally released for Amiga in 1990, it is one of the earliest 3D first-person shooter games, predating ID Software's Wolfenstein 3D (1992). It was also the first of its kind to utilize dynamic lighting. Gameplay was very complex for its time, featuring role-playing, stealth and hacking elements, similar to the later System Shock and Deus Ex series of games.
More games you may like...