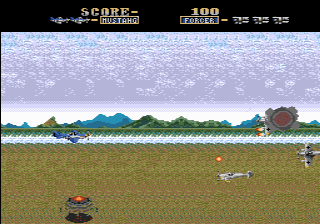 Fire Mustang
Date added: 2014-09-30
Tags:None
Rated the best by our players
5 out of 5 based on 265 ratings.
Game Information:
Fire Mustang (ファイアームスタング) is a 1991 shoot-'em-up for the Sega Mega Drive released exclusively in Japan. It is a port of UPL's 1990 arcade game US-AAF Mustang developed by Taito under license from NMK (how these two companies are related is unknown, though NMK adopted UPL's arcade hardware when UPL went bust). You play as the pilot of a P-51 Mustang in World War II defeating both the German and Japanese naval air forces. When you fire, you fire both a shot straight ahead and drop a bomb to the ground below. A shoots a single shot. C rapidfires (initially, bombs rapidfire slowly). B fires a special weapon which you have a limited supply of. Powerups are scarce but can still be found.
More games you may like...