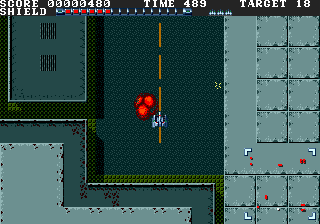 Granada
Date added: 2014-09-30
Tags:None
Rated the best by our players
5 out of 5 based on 351 ratings.
Game Information:
Granada (グラナダ?) is a 1990 shoot 'em up video game developed by Wolf Team and published by Telenet Japan in Japan first for the Sharp X68000 and later the Sega Mega Drive, with a North American Sega Genesis release by Renovation Products the following year. The player controls a tank from an overhead perspective, shooting at enemy tanks and weapon stations. The play field allows scrolling in all directions, and the player must navigate through each level to find and destroy all targets before advancing. Granada is sometimes mistakenly referred to as "XGranadaX" or "Granada X" because of ambiguity in the design of the logo.
More games you may like...