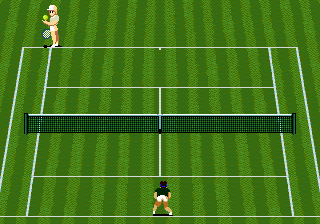 Jennifer Capriati Tennis
Date added: 2014-09-30
Tags:None
Rated the best by our players
5 out of 5 based on 702 ratings.
Game Information:
Jennifer Capriati Tennis (known as The Tennis Tournament: Grandslam in Europe) is a Sega Mega Drive video game developed by System Sacom and released in Japan by Telenet Japan on June 1, 1992. In 1994 it was released in the classic range by Sega as Grandslam (Classic). The game is named after Jennifer Capriati, one of the world's top-ranked female tennis players at the WTA Tour during time of the game's release. A gamer can create their own player by choosing their race, gender, and tennis wear color. In addition to this, the game can be played by either one or two players. There can be doubles and singles matches, in addition to numerous amounts of tournaments. Tournaments take place in various locations around the world, including Florida, London, Paris and Sydney.
More games you may like...