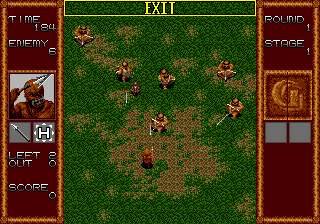 Gain Ground
Date added: 2014-09-30
Tags:None
Rated the best by our players
5 out of 5 based on 2556 ratings.
Game Information:
Gain Ground is a 1988 action-strategy arcade game later ported to the Sega Master System, Mega Drive/Genesis, and PC Engine (TurboGrafx-16). In 2004, it was re-released in Radica Games' TVPlay Legends Vol. II TV Games compilation. It was remade in the PlayStation 2 title Sega Ages 2500 Series Vol. 9: Gain Ground, which was released only in Japan. The Mega Drive/Genesis version was made available on the European and Australian Virtual Console on February 2, 2007, and was made available in North America on February 5, 2007. The game has also appeared on Sonic's Ultimate Genesis Collection for Xbox 360 and PlayStation 3. The game has also appeared on the Sega Genesis Collection on the PlayStation 2 and the PSP. On June 1, 2010 the game became available on Steam as part of the 'Sega Mega Drive Classics Pack'.
More games you may like...