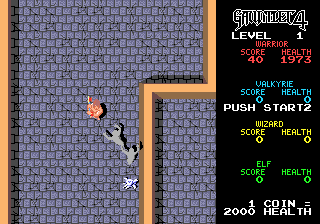 Gauntlet IV
Date added: 2014-09-30
Tags:None
Rated the best by our players
5 out of 5 based on 737 ratings.
Game Information:
Gauntlet is a fantasy-themed hack and slash 1985 arcade game by Atari Games. It is noted as being one of the first multi-player dungeon crawl arcade games. The players, up to four at once in the arcade version, select among four playable fantasy-based characters: Thor the Warrior, Merlin the Wizard, Thyra the Valkyrie, or Questor the Elf. Each character has his or her own unique strength and weaknesses. For example, the Warrior is strongest in hand-to-hand combat, the Wizard has the most powerful magic, the Valkyrie has the best armour and the Elf is the fastest in movement. Upon selecting a playable character, the gameplay is set within a series of top-down, third-person perspective mazes where the object is to find and touch the designated exit in every level. An assortment of special items can be located in each level that increase player's character's health, unlock doors, gain more points and magical potions that can destroy all of the enemies on screen.[2] The enemies are an assortment of fantasy-based monsters, including ghosts, grunts, demons, lobbers, sorcerers and thieves. Each enters the level through specific generators, which can be destroyed. While there are no bosses in the game, the most dangerous enemy is 'Death', who can not only drain a character's health, but is difficult to destroy. As the game progresses, higher levels of skill are needed to reach the exit, with success often depending on the willingness of the players to cooperate by sharing food and luring monsters into places where they can be engaged and slaughtered more conveniently. While contact with enemies reduces the player's health, health also slowly drains on its own, thus creating a time limit. When a character's health reaches zero, that character dies. The character can be revived in place with full health by spending a game credit (i.e. inserting a coin) within a certain short time window after it died. This allows even the least proficient players to keep playing indefinitely, if they are willing to keep inserting coins. Aside from the ability to have up to four players at once, the game is also noted for the narrator's voice, which was produced by a Texas Instruments TMS5220C speech chip. The narrator frequently makes statements repeating the game's rules, including: 'Shots do not hurt other players – yet', 'Remember, don't shoot food!', 'Elf – shot the food!', and 'Warrior needs food – badly!' Occasionally, the narrator will comment on the battle by saying, 'I've not seen such bravery!' or 'Let's see you get out of here!' A memorable statement of the game occurred when a player's 'life force' points fell below 200: 'Your life force is running out', 'Elf needs food' or 'Valkyrie ... is about to die!' To accommodate up to four players, the control panel is wider than other standard uprights.[citation needed] Each player has a joystick and two buttons, one for 'Fire' (ranged attack) and one for 'Magic'. The Magic button also starts the game. After Gauntlet's release, other games started using this design, so it was a popular conversion target for newer games after it had its run. There were some skilled players who could play a hypothetically unlimited amount of time on one credit, especially with the Warrior and Wizard, and thus causing the arcades to lose money. A ROM update was released, reducing the 'extra shot power' and 'extra shot speed' powerup bonus for Warrior and Wizard, and adding a new points-based difficulty counter to the game. The difficulty counter made the game more difficult, in 16,384-point steps, which removed more designated food from the levels, and made the monsters respawn faster. However, this means that on the default game difficulty of 4, it was almost impossible to pass levels 1–7 without dying, and level 4 was designed so that some of the food drops would block the monsters from swarming the player. This was because the game removed some of the 'default' food for playing solo; on difficulty level 0, at least one food placement was removed from every single level (at low scores), and on difficulty 4, two or three food drops were removed. This made the game too difficult, even for the best players, unless they could find a machine set to difficulty 0. Instead, the game gave bonus food for three or four players playing together. (Three players gave all of the default food, while four gave extra food in random locations.) This was later refined for Gauntlet 2, so that Valkyrie and Elf would not receive extra food removal penalties, and only Warrior and Wizard would receive the extra penalties. Valkyrie and Elf would receive all of the default food that the current difficulty setting plus points difficulty scaling would allow, although Valkyrie would receive the fewest food penalties at higher (non-point based) difficulty levels. Elf would get some food removed at difficulty levels 6 and 7. The game still gave extra food for three or four players playing together.
More games you may like...