Home Alone 2: Lost in New York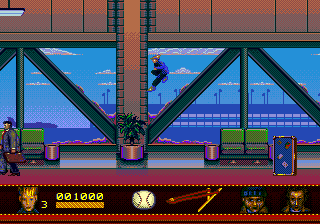 Home Alone 2: Lost in New York
Date added: 2014-09-30
Tags:None
Rated the best by our players
5 out of 5 based on 817 ratings.
Game Information:
Home Alone 2: Lost in New York is a video game based loosely on the 1992 film of the same name, it was released on the NES, Sega Genesis, Game Boy, MS-DOS and Super NES systems. Though it is based on the movie in terms of plot and additional dialogue, the game was different from the movie. The NES port uses sound effects from the early 1990s The Simpsons games such as Bart vs. the Space Mutants. Certain changes made the game more interesting in an interactive game than in a static movie, such as use of different weapons and power-ups for protection, level layouts with enemies not seen in the movie, and for the Uncle's House level, usage of hidden keys and locked doors gained only after luring Marv or Harry into specific traps laid out in the various rooms (aka the first two Home Alone movies), as well as an active scene involving the Bird Woman and her birdseed attacks
More games you may like...