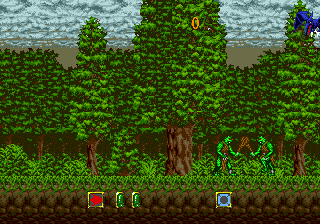 Jewel Master
Date added: 2014-09-30
Tags:None
Rated the best by our players
5 out of 5 based on 633 ratings.
Game Information:
Jewel Master (ジュエルマスター) is an action game developed and published by Sega for the Sega Mega Drive in 1991. The kingdom of Mythgard is terrorized by Demon King Jardine the Mad and his Dark Legion, but is stopped right before successfully destroying Mythgard by the Twelve Masters of the Elements. Jardine manages to destroy eight of the Twelve, and the other four channel their power to a Holy Blade, which you must retrieve to finally defeat Jardine. You may carry one weapon on each hand, either by equipping a single weapon or combining two weapons into one. You choose the weapons for each hand from the pause menu (Start). Hit A to empty your hands and C to select and place a weapon. The weapon you place on your left hand is used with A and the right hand with B. C jumps and Down+C jumps down (used to start going down stairs).
More games you may like...