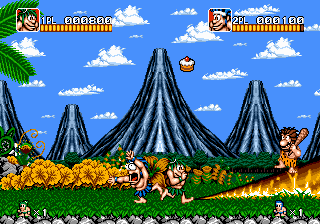 Joe & Mac Caveman Ninja
Date added: 2014-09-30
Tags:None
Rated the best by our players
5 out of 5 based on 2414 ratings.
Game Information:
Joe & Mac (ジョーとマック 戦え原始人 Joe & Mac: Tatakae Genshijin?, lit. "Joe & Mac: Caveman Combat"), also known as Caveman Ninja, is a 1991 platform game released for the arcades by Data East. It was later adapted for the Super NES, Mega Drive/Genesis, Nintendo Entertainment System, Game Boy, Amiga, and PC. The game stars the green-haired Joe and the blue-haired Mac, cavemen who battle through numerous prehistoric levels using weapons such as boomerangs, bones, fire, flints, electricity, stone wheels, and clubs. The objective of the game is to rescue group of girls who were kidnapped by a rival tribe of cavemen. The game features a health system by which the player loses health over a period of time, apart from during boss battles. A two-player mode is available in which both characters are capable of damaging each other. The original arcade version has the distinction of allowing the player to select between different routes at the end of boss battles. Also, after defeating the final boss, the players can choose between three exits, each one leading to a slightly different ending sequence.
More games you may like...