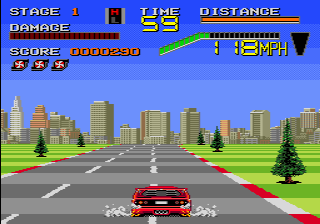 Chase H.Q.
Date added: 2014-09-30
Tags:None
Rated the best by our players
5 out of 5 based on 2138 ratings.
Game Information:
Chase H.Q. (チェイスH.Q.?, "Chase Headquarters") is a 1988 arcade racing game, released by Taito. It is a spiritual successor of Taito's 1987 Full Throttle. The player assumes the role of a police officer named Tony Gibson, member of the "Chase Special Investigation Department." Along with his partner, Raymond Broady, he must stop fleeing criminals in high-speed pursuits. The game was well received in the gaming industry resulting in three arcade-based sequels being released; Special Criminal Investigation (1989), Super Chase: Criminal Termination (1992) and Chase H.Q. 2 (2007). Two spin-offs were also released: Crime City (1989) and Quiz H.Q. (1990). The game was ported to many home computers by Ocean Software in 1989, and included versions for the ZX Spectrum, Amstrad CPC, Commodore 64, Amiga and Atari ST. Taito released versions of the game for the Nintendo Entertainment System (1989), Game Boy (1990), Sega Master System, Sega Game Gear (1991), and TurboGrafx-16 (1992). It was released for PlayStation 2 in Japan in 2007 as part of Taito Memories II Volume 2.
More games you may like...