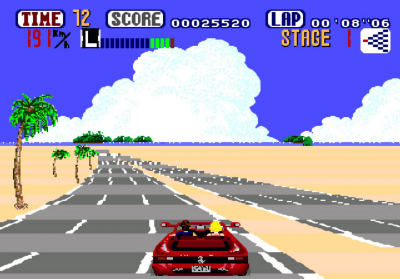 Out Run
Date added: 2014-09-30
Tags:None
Rated the best by our players
5 out of 5 based on 85976 ratings.
Game Information:
Out Run (アウト ラン?) is an arcade game released by Sega in 1986. It was designed by Yu Suzuki and developed by Sega AM2. The game was a critical and commercial success, becoming one of the best-selling video games of its time[7][8] and winning the Golden Joystick Award for Game of the Year.[8][9] It is notable for its innovative hardware (including a moving cabinet), pioneering graphics and music, innovative features such as offering the player choices in both soundtrack and non-linear routes, and its strong theme of luxury and relaxation. In retrospective interviews, Yu Suzuki has classified Out Run not as a racing game, but as a 'driving' game. Out Run is a 3D third-person racing game. The player controls a car, a Ferrari Testarossa,[10][11] from a rear third-person perspective. The player must race to the end of each stage as fast as possible against a time limit while avoiding traffic. At the end of each stage, the player is presented with a fork in the road where the player must choose one of two stages. The left route presents an easier stage, while the right offers a greater challenge. Passing through checkpoints awards the player with extra time. Once the timer reaches zero or the player completes the race, the game ends. In addition to the nonlinear gameplay, Out Run also offered the choice of music to listen to while driving, represented as radio stations.[12][13][2][7]
More games you may like...