Chuck Rock II: Son of Chuck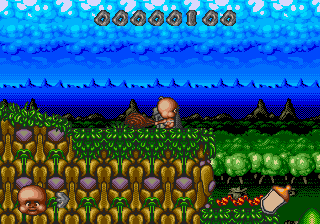 Chuck Rock II: Son of Chuck
Date added: 2014-09-30
Tags:None
Rated the best by our players
5 out of 5 based on 475 ratings.
Game Information:
Chuck Rock II: Son of Chuck is a slapstick side-scrolling platform video game developed and published by Core Design in 1993 for the Amiga, Amiga CD32, Sega Game Gear, Sega Mega-CD, Sega Master System, Sega Mega Drive/Genesis. The story takes up a little while after the end of the first game. After Chuck Rock rescued his woman, Ophelia Rock, from the T-Rex bully Gary Gritter, Chuck and Ophelia had a son, named Chuck Junior. Chuck senior works in a factory, where he develops great skill at carving automobiles out of stone. A rival manufacturer becomes jealous of Chuck's abilities and kidnaps him, leaving it up to Junior to rescue his father.
More games you may like...