Férias Frustradas do Pica-Pau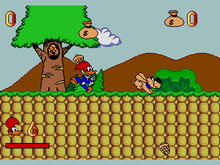 Férias Frustradas do Pica-Pau
Date added: 2014-09-30
Tags:None
Rated the best by our players
5 out of 5 based on 740 ratings.
Game Information:
Férias Frustradas do Pica-Pau (roughly translates as Woody Woodpecker's Frustrated Vacations) is a platform video game developed and published by Tectoy for the Sega Mega Drive, and the Sega Master System. It was released in Brazil only.
More games you may like...