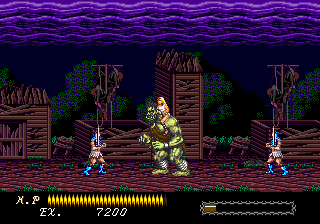 Hercules 2
Date added: 2014-09-30
Tags:None
Rated the best by our players
5 out of 5 based on 641 ratings.
Game Information:
Hercules 2 is a pirate for the Sega Genesis and SNES based on, and is a port of, Disney's Action Game Featuring Hercules for the Playstation and PC. The game is composed of four stages based off of the original Playstation game. All of the graphics try to copy the original game, though are downgraded with lots of detail missing such as the whole forest atmosphere of the first level. Also, a few enemies use sprites from either Aladdin for the SNES, or the SMD pirate of the same game. The first three stages are platform based, while the final fourth stage is more like a shooter where you ride Pegasus. Each stage ends with a boss that must be defeated in order to advance.
More games you may like...