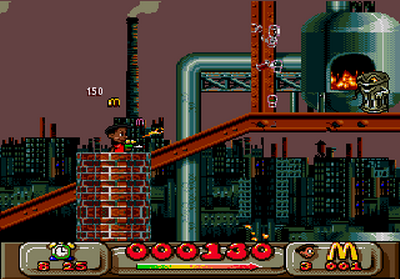 Mick and Mack: Global Gladiators
Date added: 2014-09-30
Tags:None
Rated the best by our players
5 out of 5 based on 854 ratings.
Game Information:
Global Gladiators (also known as Mick and Mack: Global Gladiators) is a 1992 platform game by Virgin Interactive, originally programmed by David Perry (who at the time had already moved to the United States and was located on the recently formed Virgin Games USA development studio) for the Mega Drive/Genesis and eventually ported by other Virgin Interactive teams in Europe (with the help of Graftgold and Krisalis Software) to the Sega Master System, Sega Game Gear and the Commodore Amiga. A Super Nintendo port was also in development but was never completed for undisclosed reasons, though a prototype exists on the Internet. The game is loosely based on the McDonald's fast food chain and has a strong environmentalist message. A Game Boy port of the title was also fully developed (by Damian Stones, of Climax) but was never released for the same legal reasons as the Super Nintendo port. In the single-player game, the player controls Mick or Mack through four worlds; Slime World, Mystical Forest, Toxi-town and Arctic World. Each world has several sub-stages where the character must collect a certain number of Golden Arches to advance. They are guided in their quest by Ronald McDonald, who appears at the beginning and the end of the game. The characters are armed with a Super Soaker-type gun that shoots gooey projectiles. The game engine is the same used in other Virgin Interactive games such as Cool Spot and Disney's Aladdin, as all of them (Mega Drive/Genesis versions) were handled by David Perry's programming team, which eventually turned into Shiny Entertainment.
More games you may like...