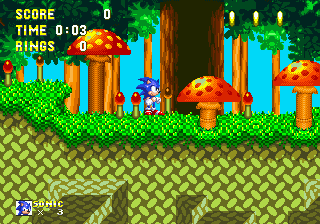 Sonic 1 & Knuckles
Date added: 2014-09-30
Tags:None
Rated the best by our players
5 out of 5 based on 12842 ratings.
Game Information:
Sonic & Knuckles + Sonic 1 (ソニック&ナックルズ Sonikku to Nakkuruzu?) is a 1994 platform video game in the Sonic the Hedgehog series for the Sega Genesis. It was developed in the United States at Sega Technical Institute by members of Sonic Team, and was published by Sega worldwide on October 18, 1994. In addition to being a standalone game, through a system dubbed "lock-on technology," Sonic & Knuckles acts as an expansion pack to both Sonic the Hedgehog 2 and Sonic the Hedgehog 3, the latter with which it was developed in tandem. Sonic & Knuckles has been released on various Sonic and Sega themed compilations over the years, and digitally for the Wii's Virtual Console, and Xbox Live Arcade.
More games you may like...