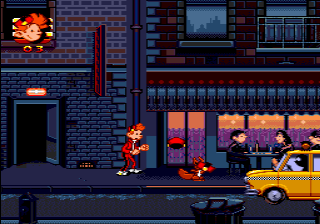 Spirou
Date added: 2014-09-30
Tags:None
Rated the best by our players
5 out of 5 based on 819 ratings.
Game Information:
Spirou is a platform-style video game developed and published by Infogrames Entertainment during 1995 and 1996 for the Sega Mega Drive, SNES and Game Boy video game consoles, as well as Windows and DOS. A Sega Game Gear version was planned, but ultimately scrapped, though a prototype version was leaked online. Based on the Spirou et Fantasio comic book series it features the adventure of Spirou trying to save his kidnapped friend Count Champignac and stop his arch-enemy Cyanida from making robots rule the earth. The game was noted for its good graphics and for being faithful to Spirou et Fantasio the comic book series, but due to the relatively high difficulty, most reviewers only recommended the game for true fans of the comic book series.
More games you may like...