Sylvester and Tweety in Cagey Capers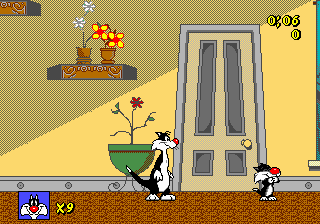 Sylvester and Tweety in Cagey Capers
Date added: 2014-09-30
Tags:None
Rated the best by our players
5 out of 5 based on 2396 ratings.
Game Information:
Sylvester and Tweety in Cagey Capers (known in most of Europe as Sylvester & Tweety in Cagey Capers and in France as Titi & Grosminet dans une aventure infernale) is a video game featuring the Looney Tunes characters Sylvester and Tweety. It was released for the Sega Genesis/Mega Drive console in 1993 and was the first video game to star Sylvester and Tweety.
More games you may like...