Dr. Robotnik's Mean Bean Machine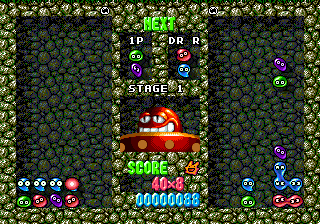 Dr. Robotnik's Mean Bean Machine
Date added: 2014-09-30
Tags:None
Rated the best by our players
5 out of 5 based on 6874 ratings.
Game Information:
Dr. Robotnik's Mean Bean Machine, known as Dr. Robotnik and His Mean Bean Machine in Europe, is a puzzle game developed by Compile and released by Sega for the Sega Genesis/Mega Drive, Sega Game Gear and Sega Master System. It is the Western release of Puyo Puyo and the first Puyo Puyo game to be released in the West. The game is based on Adventures of Sonic the Hedgehog animated series rather than taking place on the main games' universe. It is also one of a few titles in the Sonic the Hedgehog series to not feature Sonic himself. The game was released in North America on November 26, 1993 and in Europe in January 1994, with the Sega Master System version released in Europe in July 1994. The game has received generally positive reviews. Critics have praised the addictive gameplay and different modes while criticizing the quickly increasing difficulty.
More games you may like...