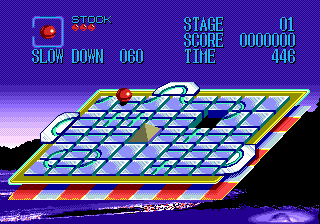 Junction
Date added: 2014-09-30
Tags:None
Rated the best by our players
5 out of 5 based on 298 ratings.
Game Information:
Junction is a video puzzle game developed by Micronet and published by Konami in 1990 that saw a western release. Using a variety of sliding puzzles, the player is challenged to roll a ball (possibly containing a small armadillo character as implied by the game's introduction) along tracks set on the tiles. Players must align the tracks together and have the ball roll over bridged tracks that have been set on the border of the puzzle in order to complete each level. Junction had a total of 50 levels and the player could select them as they wished, but a certain number of points had to be reached by level 50 in order for the player to beat the game and see the ending. The Sega Game Gear version had a reference to Curse, a previous Micronet game, in its opening.
More games you may like...