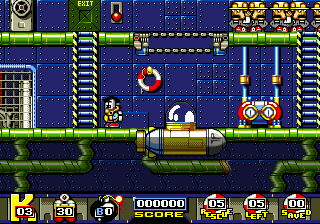 Man Overboard
Date added: 2014-09-30
Tags:None
Rated the best by our players
5 out of 5 based on 413 ratings.
Game Information:
Sink or Swim is a video game that was released in 1993 for the PC under the DOS environment. Developed by Zeppelin Games Limited, it was an action/puzzle game very similar in style to Lemmings. Versions also made their way onto the Amiga and the SNES. The Mega Drive/Genesis and Game Gear versions are known as S.S. Lucifer: Man Overboard!. The game is notable for being the first demo disk attached to PC Gamer magazine.
More games you may like...