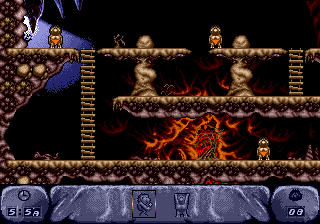 The Humans
Date added: 2014-09-30
Tags:None
Rated the best by our players
5 out of 5 based on 658 ratings.
Game Information:
The Humans is a puzzle game published and released by GameTek in 1992. The goal of The Humans varies per level, but is usually to bring at least one of the player-controlled humans to the designated end area, marked by a red tile. To do this, the player must take advantage of the humans' ability to build a human ladder and use tools, such as spears, torches, wheels, ropes, in later levels, a witch doctor. The Humans was released for many different consoles, with the Jaguar and Lynx versions, published by Atari, titled Evolution: Dino Dudes and Dinolympics respectively. Two sequels have been released, 'The Humans 2: The Jurassic Levels' for Amiga and PC and 'The Humans III: Evolution- Lost in Time' for Amiga (AGA) and PC. In 2009, it was rereleased for Windows under the name 'The Humans: Meet the Ancestors!' Upon its release, The Humans was received very well, praised for its originality and decent graphics and music.
More games you may like...