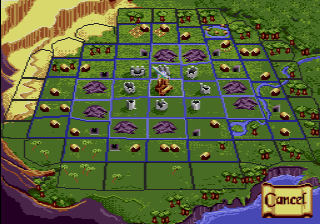 Dominus
Date added: 2014-09-30
Tags:None
Rated the best by our players
5 out of 5 based on 334 ratings.
Game Information:
Dominus is an unreleased Sega Mega Drive strategy game developed by Virtual Concepts and set to be published by Asciiware. It was cancelled for unknown reasons, though a IBM PC port published by U.S. Gold was released in 1994. A SNES version was also planned but suffered a similar fate. A prototype ROM, dated 1993 has since been unearthed, showing an incomplete game without any sound.
More games you may like...