Hydlide 3: The Space Memories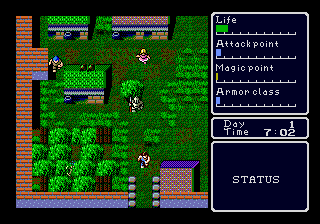 Hydlide 3: The Space Memories
Date added: 2014-09-30
Tags:None
Rated the best by our players
5 out of 5 based on 506 ratings.
Game Information:
Hydlide 3: The Space Memories (ハイドライド3 闇からの訪問者 Haidoraido 3: Yami Kara no Hōmonsha?) is an action role-playing game developed by T&E Soft and released in 1987 for the MSX (and separately for MSX2) and NEC PC-88, 1989 for the Nintendo Famicom and Sega Mega Drive (under the title Super Hydlide), and 1990 for the Sharp X68000. Before its Mega Drive release, it was called Hollo Fighter in some Sega advertising material and is notable as it was one of the first third party published titles to be released in the U.S, the other being Air Diver.
More games you may like...