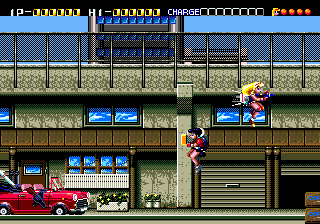 Battle Mania TS Vintage
Date added: 2014-09-30
Tags:None
Rated the best by our players
5 out of 5 based on 385 ratings.
Game Information:
Battle Mania Daiginjō (バトルマニア 大吟醸?) is the sequel to Trouble Shooter (known in Japan as Battle Mania), for the Sega Mega Drive/Genesis gaming systems. It is a cult classic horizontal side-scrolling shoot-'em-up and published by Vic Tokai exclusively for the Sega Mega Drive, released in Japan on December 25, 1993. Unlike the first Battle Mania, which was released as Trouble Shooter in the US after a large amount of editing to remove many Japanese-centric images, Battle Mania Daiginjō was not released in the US, as it would have required too much editing which would lead to severely compromising the game experience given its deeper Japanese-centric flavor and emphasis on the game's heroines - a pair of heavy artillery-wielding girls rooted in the anime and manga flavor which the game featured.
More games you may like...