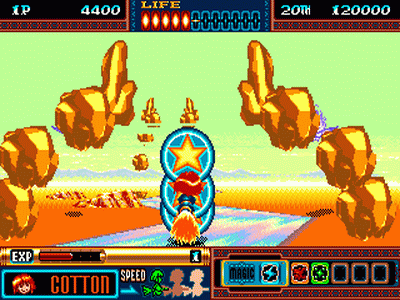 Panorama Cotton
Date added: 2014-09-30
Tags:None
Rated the best by our players
5 out of 5 based on 395 ratings.
Game Information:
Panorama Cotton is a 1994 rail shooter video game developed by Success and published by Sunsoft for the Sega Mega Drive. The game was released exclusively in Japan on August 12, 1994. Panorama Cotton is the third entry in the Cotton series. Panorama Cotton is a pseudo-3D scrolling shooter reminiscent of Space Harrier, set in an anime-style fantasy world. Various levels scroll "into the screen", vertically, horizontally, or diagonally. You can move Cotton over the screen, shooting at oncoming enemies and avoiding obstacles on her way. Cotton can upgrade her weapon to higher levels as you advance in the game, and can also cast magical spells by collecting special items.
More games you may like...