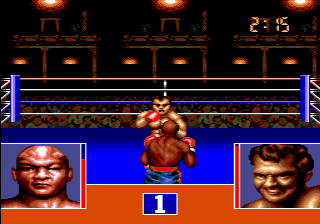 George Foreman's KO Boxing
Date added: 2014-09-30
Tags:None
Rated the best by our players
5 out of 5 based on 654 ratings.
Game Information:
George Foreman's KO Boxing is a boxing video game produced by Acclaim, featuring boxer George Foreman, released in 1992. Years later, Acclaim released another game featuring Foreman, Foreman For Real. George Foreman's KO Boxing was released in 1992 for the Sega Mega Drive/Genesis and other 16-bit gaming consoles such as the Super Nintendo Entertainment System that features multiple heavyweight champion George Foreman. A version for the Nintendo Entertainment System was released as well.[1] The game was also later available on the 8-bit Sega Master System, and the Sega Game Gear. These two versions differ greatly from the other releases and were based on the Master System version of James Buster Douglas Knockout Boxing. In the 16-bit versions, the player takes a generic boxer and must go on to defeat other generic boxers in the game in order to take on George Foreman in a 12-round boxing match featuring toe-to-toe action. Instant replays of every knockout provide a realistic pay-per-view look to the action that is going on in the screen. The game uses various camera angles for added realism. Every time that someone gets damages, his face in the photo becomes more bruised and eventually starts to show blood. A password system is used in career mode to save progress in the game in lieu of battery backup. Like Punch-Out!!, players are given the option to block the opponent's attempted punches, evading in two different directions, and throwing a wide variety of punches. The game was poorly received. Mega said that 'the dire gameplay and abysmal graphics make this a game to avoid.'
More games you may like...