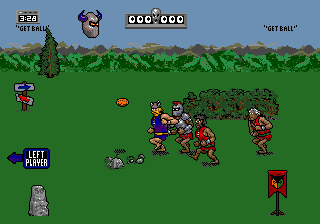 Pigskin 621 A.D.
Date added: 2014-09-30
Tags:None
Rated the best by our players
5 out of 5 based on 2214 ratings.
Game Information:
Pigskin 621 A.D. is an arcade game released in 1990 by Bally Midway. One player can battle the computer, or two players can battle head-to-head. Two teams compete to score as many touchdowns as possible in the tradition of American football, but actual play is more similar to rugby football. A version for the Sega Genesis, retitled Pigskin Footbrawl and endorsed by coach Jerry Glanville was released by Razor Soft in 1992.
More games you may like...