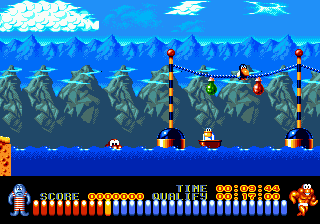 The Aquatic Games
Date added: 2014-09-28
Tags:None
Rated the best by our players
5 out of 5 based on 702 ratings.
Game Information:
The Aquatic Games (Super Aquatic Games on the Super Nintendo) is a sports video game by Millennium Software. It featured pseudo-Olympic sports starring the video game character James Pond, better known for his series of side-view platform games. The game was an aquatic-themed parody of games like Konami's Track & Field. Aquatic Games was the last game starring James Pond to be released for the Amiga A500. Though the next game (James Pond 3: Operation Starfish) also appeared on the Amiga, it was only compatible with the newer range of 32-bit Amigas (such as the A1200) which used the AGA chipset. The game contains classical music pieces Ode to Joy (from Beethoven's 9th) in the title screen and Schubert's fish song 'Die Forelle' during certain events. The rest of the music is composed by Richard Joseph.
More games you may like...