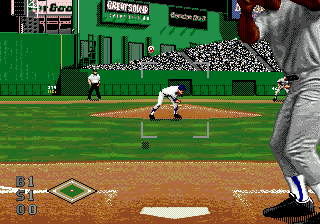 World Series Baseball 96
Date added: 2014-09-30
Tags:None
Rated the best by our players
5 out of 5 based on 891 ratings.
Game Information:
World Series Baseball for the Sega Saturn is a baseball game which is part of the World Series Baseball franchise. This Saturn version is unrelated to the Sega Mega Drive and Sega Game Gear games of the same name - it is a brand new entry, despite not having a brand new name, which takes advantage of the system's 3D graphics. It is known as Hideo Nomo World Series Baseball (野茂英雄ワールドシリーズベースボール) in Japan, possibly to make this distinction, being sponsored by Hideo Nomo. This of course, can cause further confusion, as there is a Nomo Hideo no World Series Baseball for the Game Gear also. It would not be the last game to disregard previous entries in the series - a 2001 World Series Baseball exists also. This Saturn version of World Series Baseball was followed by World Series Baseball II, again seemingly unaware of the Mega Drive and Game Gear games that preceded it.
More games you may like...