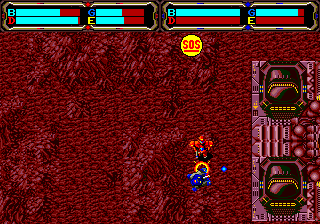 Herzog Zwei
Date added: 2014-09-30
Tags:None
Rated the best by our players
5 out of 5 based on 1053 ratings.
Game Information:
Herzog Zwei is a Sega Mega Drive-exclusive game by Technosoft, published in 1989 (released in North America in early 1990). It is an early real-time strategy game, predating the genre-popularizing Dune II.[1][2][3] Herzog Zwei is also considered one of the best two-player Genesis games, combining the arcade-style play of Technosoft's own Thunder Force series with a simple, easy-to-grasp level of strategy. Herzog Zwei (German pronunciation: [ˈhɛɐ̯tsok ˈtsvai]) translates from German to "Duke Two". It is the sequel to Herzog, which was available on the Japanese MSX and PC-8801 personal computers.
More games you may like...