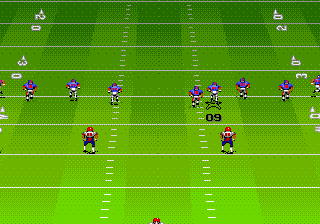 John Madden Football '93
Date added: 2014-09-30
Tags:None
Rated the best by our players
5 out of 5 based on 341 ratings.
Game Information:
John Madden Football '93 is a 1992 sports video game developed by Blue Sky Productions (later Looking Glass Studios) and Electronic Arts and published by EA Sports Network. Based on the sport of American football, the game puts the player in control of a football team in modes such as tournament play and sudden death. It was officially endorsed by John Madden. The game's Sega Genesis version was developed by Blue Sky Productions, which was simultaneously creating Ultima Underworld: The Stygian Abyss. The team received the project because of Electronic Arts' dissatisfaction with the work of another studio. John Madden Football '93 adds new animations and features, and it allows players to play as and against famous teams such as the Oakland Raiders of 1976. Aside from Madden Football 64, the game was the last in the Madden franchise to lack the NFL license, which was featured in Madden NFL '94 onward. John Madden Football '93 was a commercial success, selling over one million copies. It has been cited as the highest-selling game developed by Looking Glass Studios. Critics awarded the game high scores and praised its updated graphics; but several reviewers complained that little had changed since John Madden Football '92. Royalties from the game funded the expansion of Blue Sky Productions, and the company's director, Paul Neurath, later commented that the size of these royalties led Electronic Arts to develop future Madden titles in-house.
More games you may like...