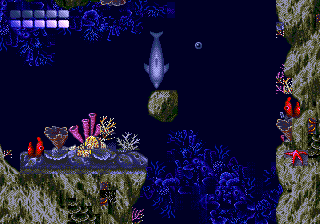 Ecco
Date added: 2014-09-30
Tags:None
Rated the best by our players
5 out of 5 based on 1196 ratings.
Game Information:
Ecco the Dolphin is the collective name given to a series of action/adventure science fiction video games developed by Novotrade International (now known as Appaloosa Interactive) and published by Sega. They were originally developed for the Mega Drive/Genesis and Dreamcast video game consoles, but have since been ported to numerous systems. The games are named after their main character, Ecco, a Bottlenose Dolphin. They are known for their high difficulty level.[1][2] Ecco was created by Ed Annunziata,[3] who also produced Chakan: The Forever Man. The Ecco the Dolphin games hinge on the idea that cetaceans are sapient beings and have their own society. In the Mega Drive/Genesis games, humans aren't acknowledged. The cetaceans call themselves "singers". In the Dreamcast game, dolphins and presumably other cetaceans have united with humans in a cross-species society. Ecco himself is a young adult male Bottlenose Dolphin, though his gender was ambiguous in the original game. He is very strong and intelligent, even for a cetacean. He is also able to use many unusual powers, such as shapechanging and using his sonar as a weapon. He has five distinct markings on his head which form the shape of the constellation Delphinus. In the Sega Mega Drive manual backstory, Ecco is acknowledged as the only dolphin to have five stars on his forehead.
More games you may like...