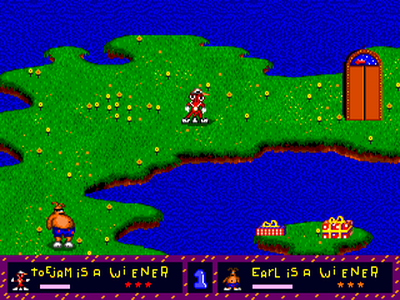 ToeJam & Earl
Date added: 2014-09-30
Tags:None
Rated the best by our players
5 out of 5 based on 10880 ratings.
Game Information:
ToeJam & Earl is an action video game developed by Johnson Voorsanger Productions and published by Sega for the Mega Drive video game console. Released in 1991, it centers on the titular ToeJam and Earl—alien rappers who have crash-landed on Earth. As they attempt to escape the planet, players assume the role of either character and collect pieces of their wrecked spacecraft. ToeJam & Earl's design was heavily influenced by the role-playing video game Rogue, and took from it such features as the random generation of levels and items. It references and parodies 1980s urban culture and is set to a funk soundtrack. The game was positively received by critics, who praised its originality, soundtrack, humor and two-player cooperative mode. It attained sleeper hit status despite low initial sales, and its protagonists were used as mascots by Sega. ToeJam & Earl was followed by two sequels: ToeJam & Earl in Panic on Funkotron and ToeJam & Earl III: Mission to Earth, released for the Mega Drive and Xbox, respectively. The sequels' commercial and critical success was mixed. The game was re-released for the Wii's Virtual Console in December 2006 and re-released again on PlayStation Network and Xbox Live Arcade in November 2012.
More games you may like...