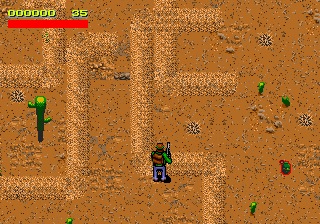 It Came from the Desert
Date added: 2014-09-30
Tags:None
Rated the best by our players
5 out of 5 based on 709 ratings.
Game Information:
It Came from the Desert is a 1989 computer game by Cinemaware. It was originally released for the Amiga, but later ported to other systems, as well as released in distinctly different forms to consoles. Like most of Cinemaware's titles, It Came From the Desert takes its inspiration from Hollywood. This game is inspired by dozens of 1950s "B" movies, especially the 1954 mutant-ant classic Them!. The original It Came From the Desert was nominated for SPA Game of the Year in 1990. The game is a fairly non-linear combination of dialogue boxes and several types of action scenes, typical of contemporary Cinemaware releases. The game is set in 1951. When the rural American town of Lizard Breath witnesses a meteor fall, town geologist and player character Greg Bradley has to discover the source of some strange occurrences. His role as a young man of science in a 1950s movie setting also gives Bradley the ability to operate aircraft, heavy machinery and several types of firearms, and to suffer no injury worse than a flesh wound unless he's committing a heroic sacrifice.
More games you may like...