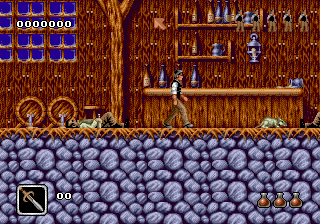 Bram Stoker's Dracula
Date added: 2014-09-30
Tags:None
Rated the best by our players
5 out of 5 based on 1015 ratings.
Game Information:
Bram Stoker's Dracula is a 1993 video game released for the NES, SNES, Game Boy, Sega Master System, Mega Drive/Genesis, Sega CD, Sega Game Gear, DOS and Amiga games consoles. Based on the 1992 movie of the same name which in turn is based on the 1897 novel by Bram Stoker, each version of the game was essentially identical (except for the Sega CD, Amiga and MS-DOS versions). The Amiga version was released in 1994 for North America and Europe.[3] A CD-ROM version for DOS was released in 1995.[4]
More games you may like...